Summit Metal LLC UAE

Bringing Designs to Reality in UAE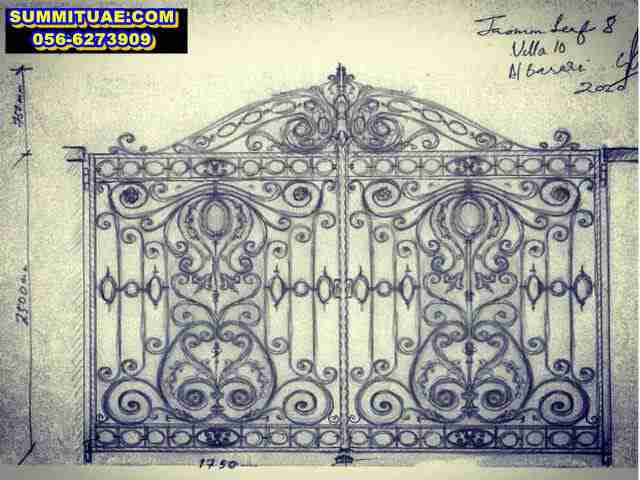 For nearly 2 decades, Summit Metal Construction Industries LLC (UAE) has been providing top-notch architectural metalwork across the UAE under our exclusive UAEIRON and DUBAI iron brands. Located in Dubai, our experienced teams of craftsmen have worked on architectural projects that shape city skylines in Dubai, Sharjah and Abu Dhabi. We've collaborated with leading architects and developers to create iconic metal artefacts recognizable across the Emirates.
Forged steel palace gates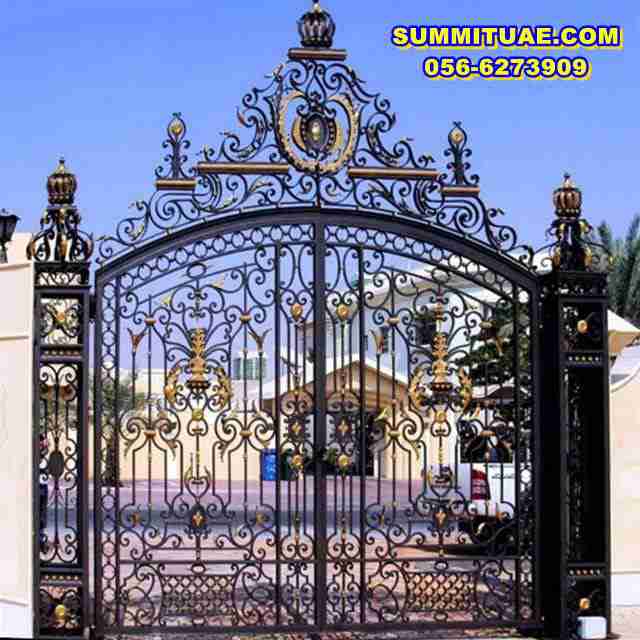 Summit's unique metal gates are customized to your royal palace layout in 45 Days when ordered well in advance. Manufactured from wrought steel, these main palace gates in forged metals are far SUPERIOR to cast iron doors and cheap gates made from cast aluminum scrap.
Curved baroque metal staircases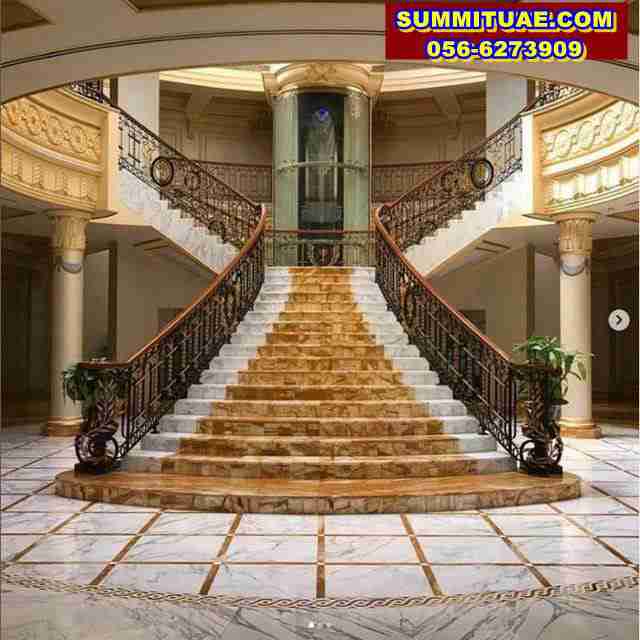 Summit offers the best selection of decorative wrought iron staircases and railing panels in the UAE through our design engineering services. These high-end royal stairs come with all necessary accessories and can be easily installed on site by our team of skilled metalworkers.
Ornate balcony railing panels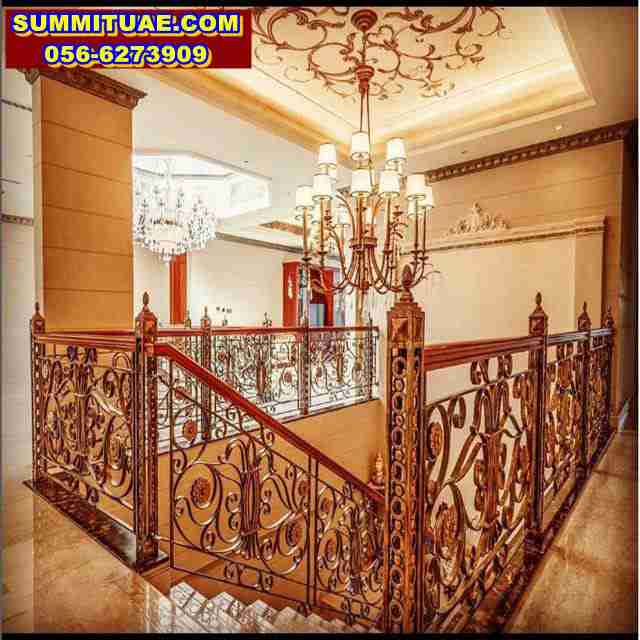 Our manufacturing facilities can supply even the most complex iron railing and steel fence designs, engineered precisely in various finishes. We specialise in traditional French styles wrought iron fencing and curved railing in heavy metal sections.
Summit Metal Design, Dubai

Manufacturing Complex Designs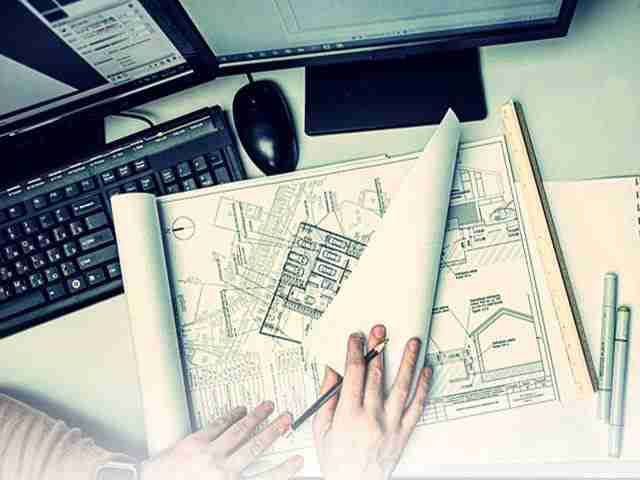 So, regardless if you have a clear vision or need guidance, we're here to make it a reality. Our expert skills in welding, cutting and finishing makes every component meet exacting standards. We take pride in the artistry and attention to detail that goes into each hand-crafted project. Our metalwork consistently brings designs to life with function and aesthetic in perfect harmony.
Forged Metalwork Accents Shape Interior Railing Display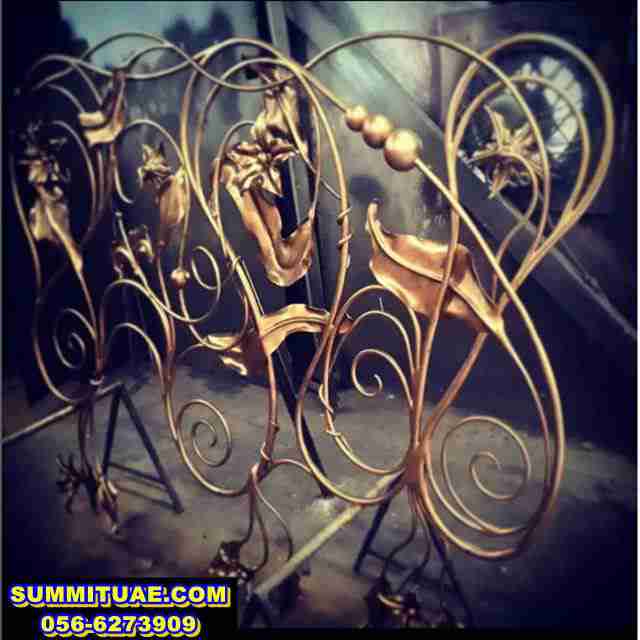 Each piece, custom forged by blacksmiths, reflects the raw beauty of metal transformed through fire and hammer. When integrated as accents within a larger railing pattern, the forged pieces stand out, drawing the eye to the unique charisma of ironwork.
Blacksmith's Touch Brings Life to Interior Railing Compositions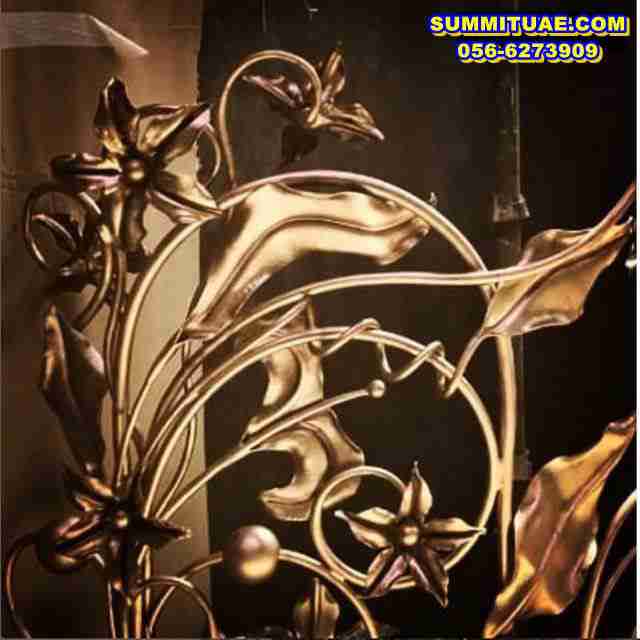 The blacksmith's ancient art transforms mundane metal into organic, artistic interior railings. Starting with nondescript steel bars and sheets, the artisan envisions swirling vines and branching forms. With hammer and anvil, flat metal morphs into graceful curves, tendrils, and buds.
Forged Accents Finish Elaborate Interior Railing Motifs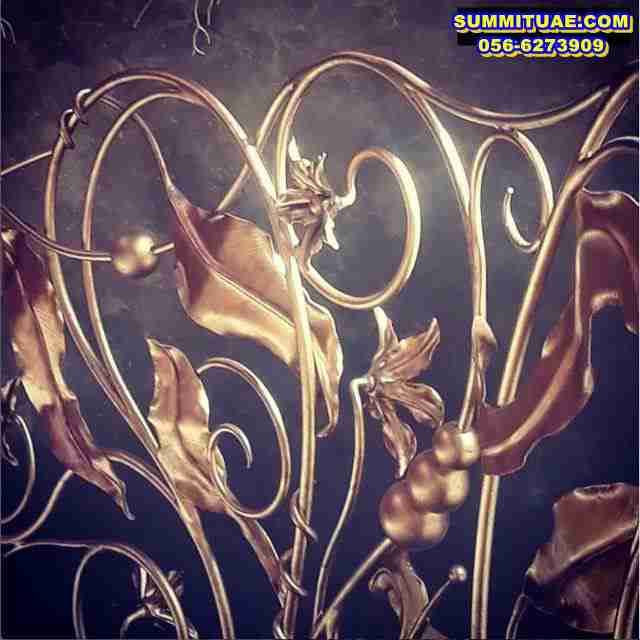 The intricate forged accents adorning this elaborate lobby railing blend craft and art seamlessly. Like exotic vines and leaves, intertwining as in nature, the hand-wrought ironwork twists and curls, forming ornate floral motifs in delicate detail against a backdrop of simple metal rods.
Summit Steel Works, Dubai

State-of-the-Art fabrication factory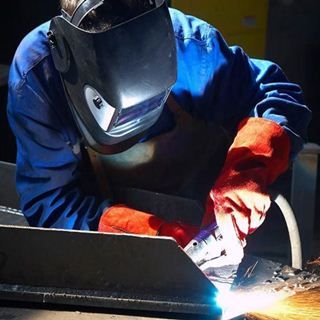 Our large fabrication facility contains advanced equipment manned by devoted craftsmen. This allows us to shape metal in any size, form or style imaginable. CNC laser cutters precisely slice steel and other metals while computer-controlled machines bend and shape materials to exact specifications. In their expanse of welding bays, Summit's artisans fuse metals into structurally sound creations, their experienced hands guiding the welding torch across joints. Each finished piece passes through multi-stage quality control checks before being securely despatched for installation at the client's site.
Giant public art spheres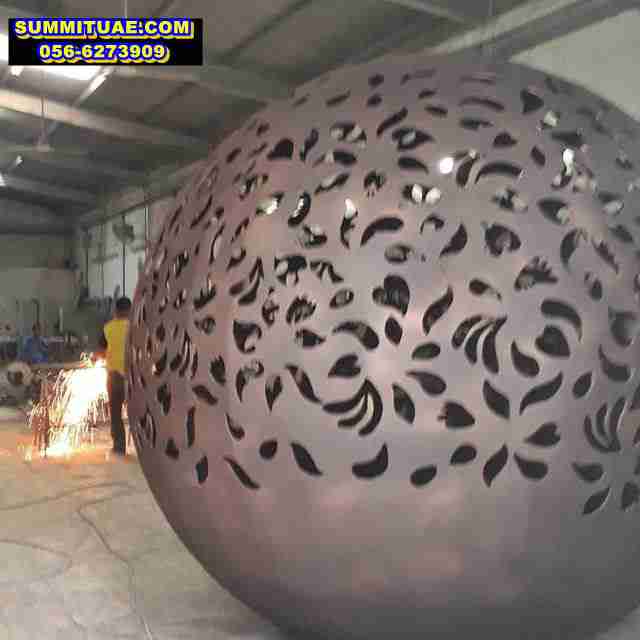 Our unique Giant outdoor public art spheres are 3 metre in Diameter. The complexity involved in manufacturing these exotic stainless steel space balloons is challenging. This one was installed at the Al Zaha City Centre in Sharjah, UAE.
Expert site installation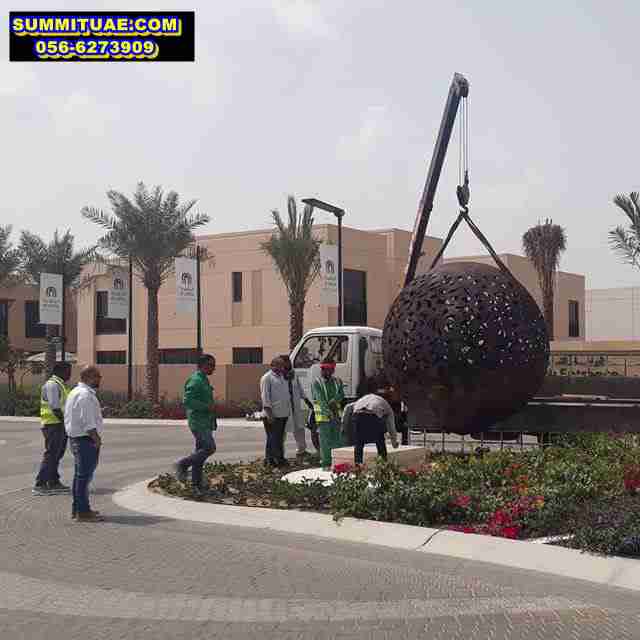 The demand for Summit's installation of designer metal artefacts is becoming increasingly popular for high-end construction projects in Dubai. Our skilled metalworkers carefully position and secure the custom metal art pieces on location at important public spaces across the UAE.
Metal outdoor artefacts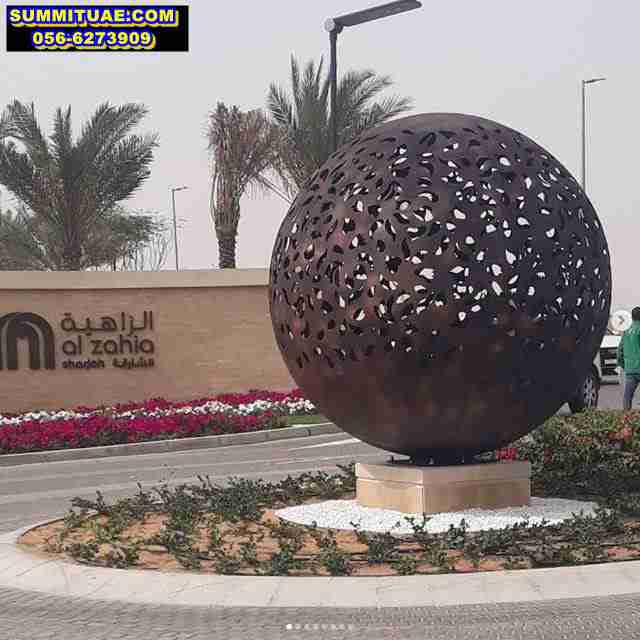 These massive abstract steel forms make bold architectural statements, bringing a sense of beauty and whimsy to parks and plazas Public spaces are energized by the presence of Summit's outdoor metal art which celebrates the human spirit and adds vibrancy to the urban landscape.
Summit Specialised Services

Architectural Steel Fabrication
We use metal to create custom screens, accents, cladding, railings, canopies and anything else you envision to enhance form and function. Our metalwork seamlessly integrates into any exterior or interior vision.
Ornate straight stairway Railings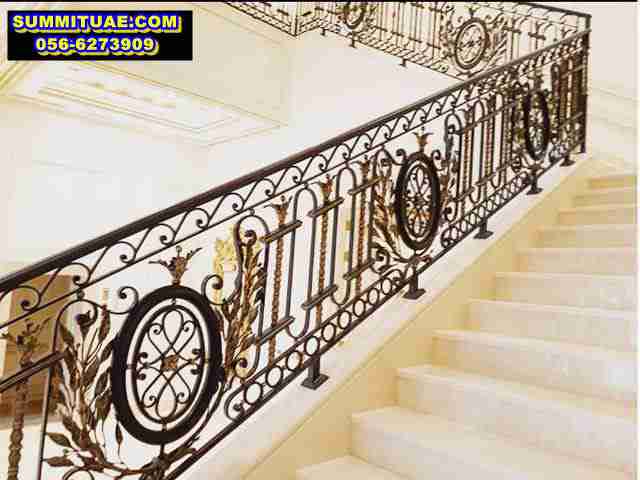 Elaborate wrought iron staircase railings can transform any home. Skilled metalworkers forge and shape iron into graceful curves and symmetrical patterns. Intricate scrollwork and curled vines add a touch of old-world charm. The warmth of the iron contrasts with the cool marble or wood tones of the steps.
Classic art metal railing panels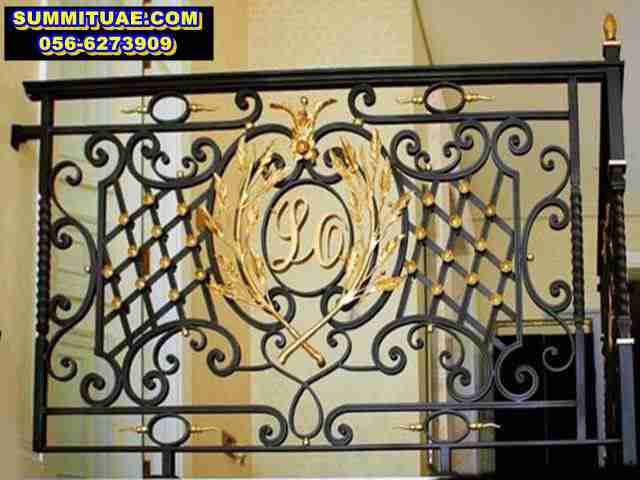 The clean lines of a classic flat railing panel offer an elegant simplicity. The timeless purity of classic flat panels, built from heavy square iron bars with a smooth satin finish, provides a classic and warm feel. Simple vertical pickets are evenly spaced in between, their slim shapes highlighting the panel's intricate geometry.
Baroque Curved Inner Railings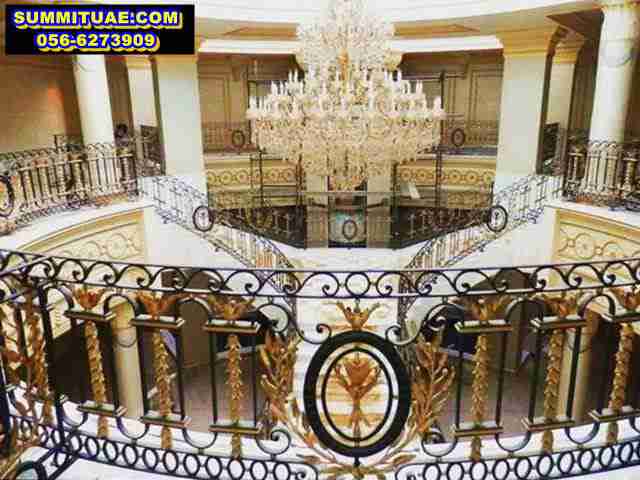 Sweeping inner railings in the Baroque style make a dramatic statement. Elaborately curved sections hug a staircase, their sensuous lines beckoning you upward. Gilded highlights glint softly in the light as these inner railings surround you in old world opulence as you ascend with fluid shapes creating a visual rhythm.
Stainless Steel Fabrication
Our stainless steel expertise shines through in the many breathtaking facades we've constructed across Dubai and beyond. It provides beauty with durability to withstand punishing heat, humidity and salt air.
Massive Space Age Stainless Steel Dubai Mall Artwork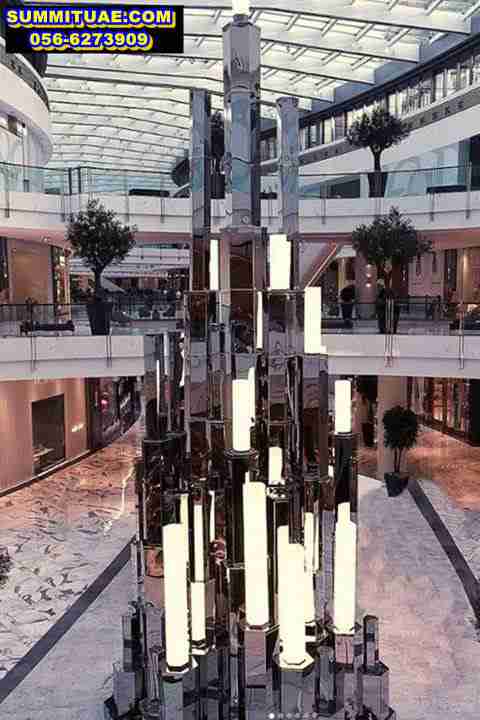 A complex stainless steel sculpture dominates the Dubai Mall atrium. Its towering mirrored surfaces reflecting fractured views of the space around it. Curving spans of polished metal extend outward, overlapping and intertwining in an intricate web. The stunning scale dwarfs all those who stand below it. Its linear organic forms evoke some mysterious alien time crystals. Yet there is a fluid grace to its edges and corners that invites the eye to trace their smooth lines. This is public art as spectacle, designed to awe. As shoppers crisscross on the floors beneath it, the sculpture's dizzying reflections and highlights shift and shimmer, enveloping them in a kinetic space age reverie.
Fitment and Lighting of Stainless Steel Dubai Mall Sculpture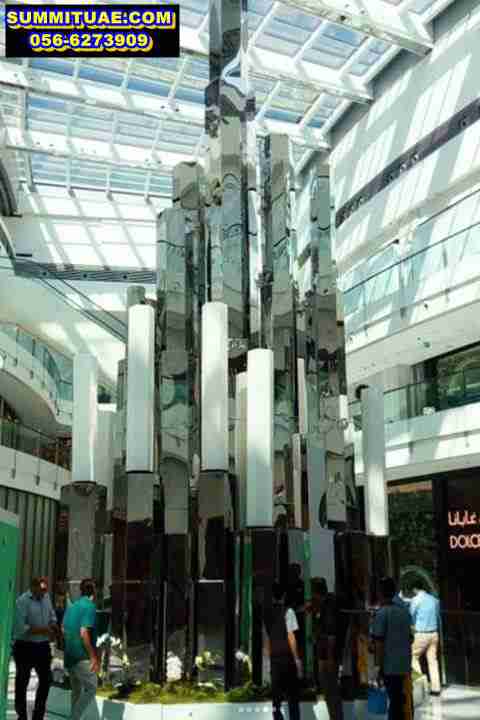 Installing the massive public sculpture was an epic project requiring careful planning. The mirrored columns had to align perfectly to create the desired reflective effect. Each segment was mapped and marked to fit seamlessly together. Cranes carefully hoisted the massive parts into place as installers guided them into position, mindful of the delicate finishes. The sculpture was engineered with built-in fixtures to accept custom LED lighting, washed in cool spectrum glows. The creative lighting transforms the look entirely, bathing the space in a moody sci-fi atmosphere. It took a massive coordinated effort to properly fit and light this showstopper sculpture just right.
Complex Installation of Dubai Mall Stainless Steel Artifact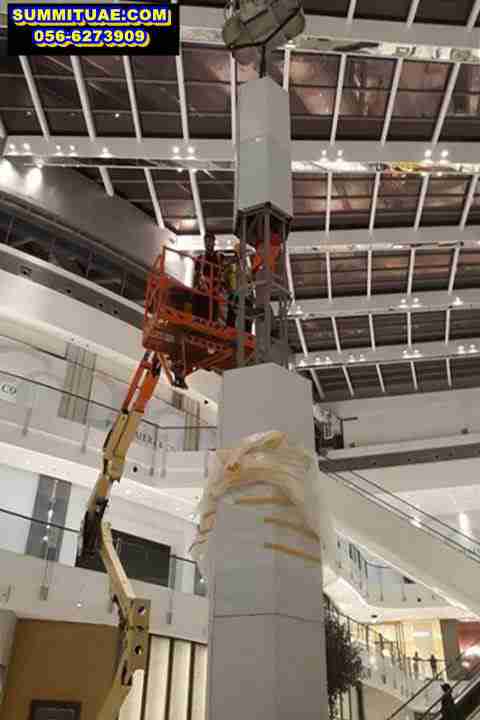 Getting the abstract sculpture into place was a complex proposition. The polished steel behemoth dwarfed workers as it was unloaded and moved piece by piece into the mall. Maneuvering the sculpture's towering arcs and spans into the building and atrium was a puzzle requiring strategic choreography. Cranes lifted segments skyward as crews guided them into intricate positions, aligning each to perfection. Innovative structural enhancements were engineered below the towers to support the massive weight. Finally, justifying the days of planning, the stainless steel artifact began to take form. The undertaking was a success and the sculpture now stands as the focal point of its space.
Steel Fabrication
For strength in commercial and industrial settings, our steel fabrication abilities deliver versatile, sturdy solutions for structures and frameworks.
Ornamental Iron Wooden Door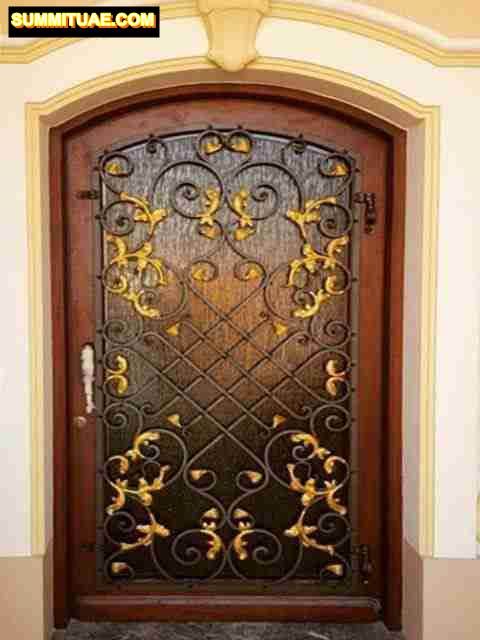 A handcrafted wrought iron work security grille inset into the heavy teak wood frame, its ornate wrought iron complementing rich wooden panels. The warm patina of the iron contrasts beautifully with the door's wooden frame and inset panels. Their smooth grain and rich color add organic texture. Burnished bronze hardware gleams, echoing the door's old world charm.
Classic Wrought Steel Inner Gate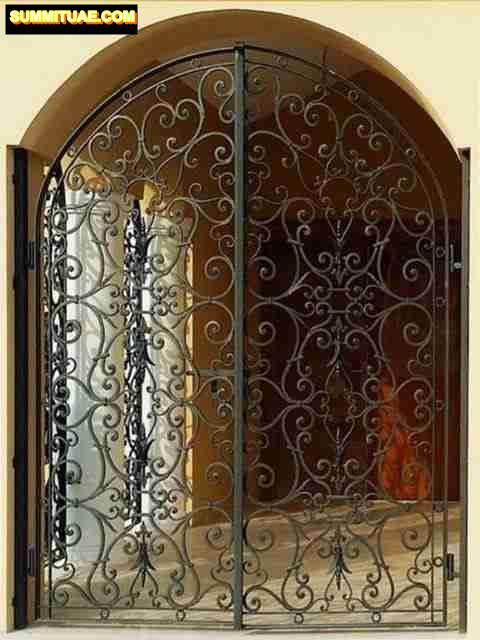 This classic inner gate is meant for the truly discerning home owner . Heavy steel bars form the outer frame, merging seamlessly with swirling inset panels. The overall effect is one of rustic refinement. This traditional inner gate evokes the stately homes of days past, while remaining timeless and contemporary. Its classic elegance blending seamlessly with the exterior.
Decorative Designer Steel Doors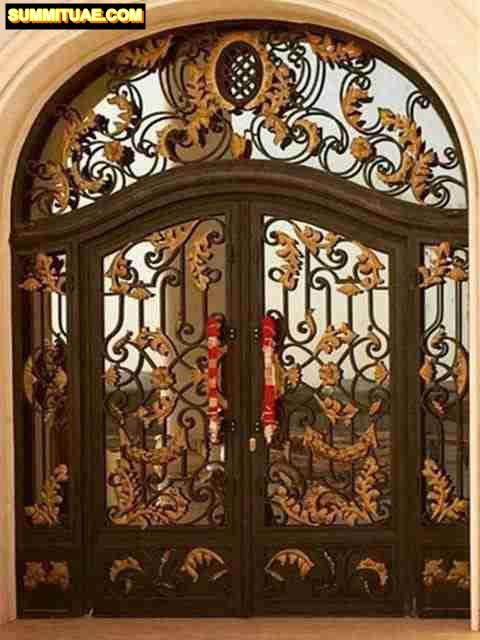 The muted steel surface of these designer steel doors is overlaid with elaborate art-deco inspired ironwork. These elaborately adorned steel doors demand attention, with every hand-forged embellishment serving the cohesive aesthetic. Custom-mixed metallic finishes transform these decorative steel doors into works of art you walk invitingly through.
Wrought Iron Fabrication
We handcraft wrought iron into elegant railings, gates, stairs and decorative elements with artisanal flair. Our expert blacksmiths shape and forge iron into designs from classic to modern.
Art metal boundary fencing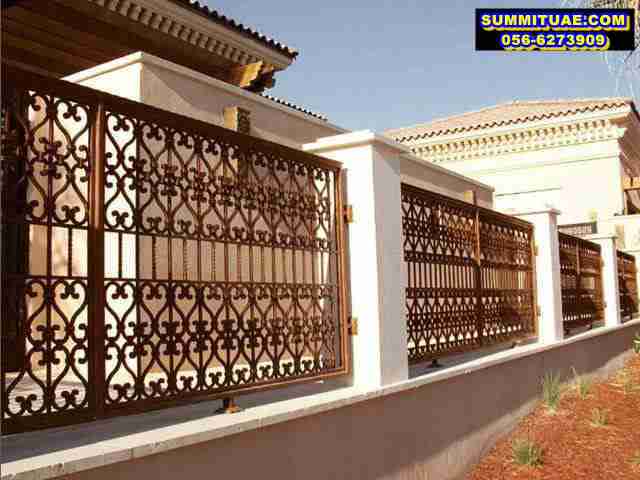 Wrought iron and steel fencing designs feature intricate scrolled work, fins, and pickets that enhance curb appeal. Summit's Art Metal boundary fences stands the test of time with superior strength against weathering and vandalism. For security, the sturdy bars and pointed finials deter climbers. Our customization options can match any architectural style from Old World to contemporary.
Wrought Iron balcony railings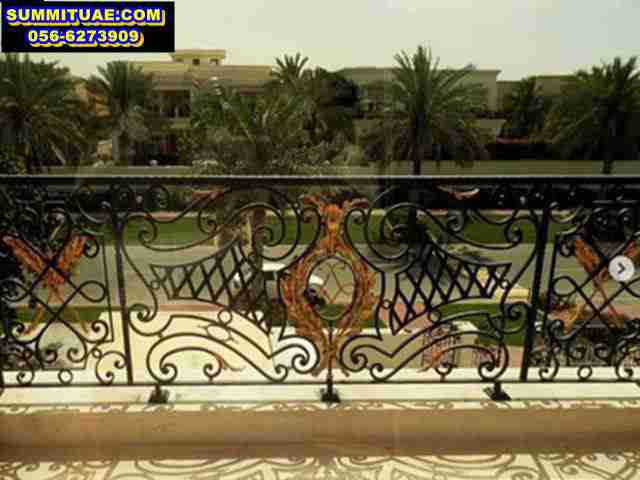 Wrought iron balcony railings infuse vintage charm and elegance to a home's exterior. Their intricate scroll work denotes a romantic, historic aesthetic. These security railings are designed to meet or exceed code requirements. With custom sizing and patterns, they seamlessly match a home's architecture. Wrought iron railings, when properly coated, easily withstand coastal elements for long-lasting beauty.
Premium steel porch railings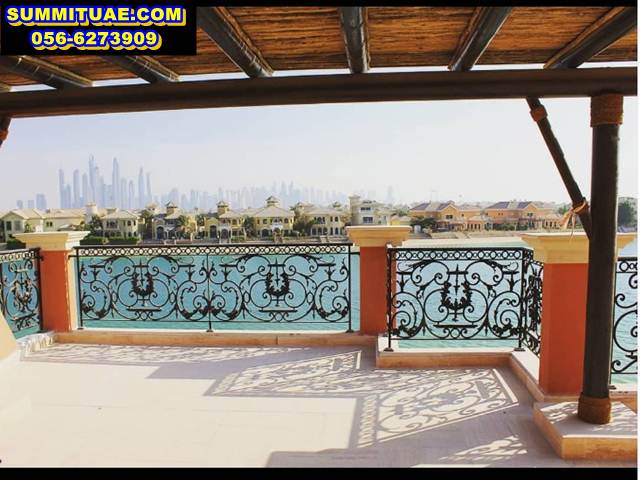 Premium steel jetty railings combine strength, safety, and aesthetic appeal for docks and piers. The myriad designs, customizable patterns and protective finishes integrate well with coastal architecture. These steel porch railings are durable against weathering and require less maintenance compared to other railing types, Proper galvanization and powder coating enable decades of reliable performance.
Custom Fabrication
We can fabricate any metal material into one-of-a-kind components based on your specifications, realizing your vision in a customized product.
Summit Wrought Iron, Dubai

Contact Us
At Summit Metal, we recognize that schedules and budgets differ with each job. And our centralized Dubai location allows us to efficiently fabricate and deliver our work to client sites across the Emirates. You can rely on Summit Metal to meet and exceed expectations for any custom architectural metalwork need. We welcome you to contact us to turn your vision into reality.
CALL 0566273909 to discuss Wrought Iron stairs and scrolled steel designer royal palace metal stairs and railings from Dubai (UAE) designed for your villa homes and royal palaces